Horses
Our entry into Quarter Horse racing was a stroke of good luck like finding the brands that fit our names. In 1984, a horseman had a dispersal sale because his ranch had been sold. We took home two mares with running pedigrees and bred them to a stallion named Rocky Jones . The mare named Heidis Honey Gal had a sorrel filly Diane named Rockys Lil Gal in recognition of both parents.
Most Quarter Horse races are short, between 300 and 440 yards long, and most races are won by the horse that stands quiet in the starting gate and breaks on top at the start. Rocky was like a rock in the gate and a rocket when the gate opened. Once she scampered to the lead, she refused to give it up. It was a point of pride for her to stay in front, and the one time she ran second she went off her feed and was depressed for a week. Rocky was the Arizona Champion two and three-year old for 1992 and 1993. Diane handled Rocky's career expertly, selecting her races and managing the trainer and the jockeys who rode her. Later, when Rocky retired to the brood mare paddock, she raised a string of fine runners, all named "Gal": Sonoran Gal, Ronas Gal, Cassidy Gal.
At the ranch in the Canelo Hills, we needed a different kind of horse; rock-footed, cold blooded, with the aptitude to work cattle. I tried to convert one race horse gelding to ranch work, but his feet were so soft that his soles dropped and he went lame. After he healed up, we sold him to a lady in Sierra Vista for a pleasure horse.
Quite by accident we found a string of ranch horses from the Dean Reeves Ranch in Eagle Butte, South Dakota. Rich and I bought the first one at a ranch horse sale in Vernon, Texas. He was a wide-bodied, bay roan 5 year old, with black iron feet and an attitude. Bird (named after his sire Sir Fancy Bird) never needed grain, never had to go to the vet, never lost a shoe or missed a day's work, and never became friendly. Over the years we bought ten horses from Dean and most of them worked out fine. We still have two; TJ's Blue Cowboy that Diane rides and Tuffy that my niece Leslie keeps on her Oregon farm. Another, called Roan Bar, had lots of promise as a roping horse, but died in a javelina accident. One night a herd of javelina came snuffling around the hay barn and Roan Bar leaped a six rail fence and broke an artery.
This leads me to the fact that horses are amazingly fragile creatures for all their size, strength, and speed. Their high startle reflex can put them in mortal danger. I suspect that is why many cowboy stories are elegies. The lives of horses and dogs are much shorter than ours, so they always seem to be passing away; it's like losing your best friend over and over again.
The best all-round horse I ever had was an eight-year-old buckskin gelding the color of café latte, with a black mane and tail, and black below the knees. Stormytiptop had a supremely confident disposition; he knew his jobs and did them all well. He preferred to operate on autopilot and was insulted if I made the mistake of cueing him on a roping run. Stormy helped me win more in the roping events and horse shows than anyone past middle age should. When he passed on (another elegy), I changed my email to Stormytiptop@gmail.com. They never heard of Stormy at the GooglePlex, which just goes to show that computers don't know everything.
As I've gotten older, I've become less interested in horses bred and trained for arena competition and racing. What I need now depends on work to be done and the terrain I am riding over. There is little pleasure in riding a stumble-footed horse or one that jars your teeth with every step. The best ones have been raised in the environment in which they have to do their jobs. Lately, I've taken to buying foals just weaned off the mare and raising them in my own rock pile. Lacey Dun, the horse I now ride glides over the rugged canyon country of the Canelo Hills as if we were on the moving sidewalk at the airport.
Two others that need mention are Frosty and Cranberry. I bought them as yearlings from the renowned Mel Potter Ranch in Marana, Arizona seven years ago, the year Rich and Jackie got married. Cranberry is a slug unless she is working a cow or making a heeling run. She loves her jobs and sees no reason to get excited unless she has work to do. Frosty is a great horse just to ride outside on the ranch, but she is a half-sister to Sherri Cervi's world champion barrel horse, Stingray, so her career is pointing toward the rodeo arena.
Rockys Lil Gal - parade to the post
Richard Collins with Frosty
TJ and Lacey Dun in the pasture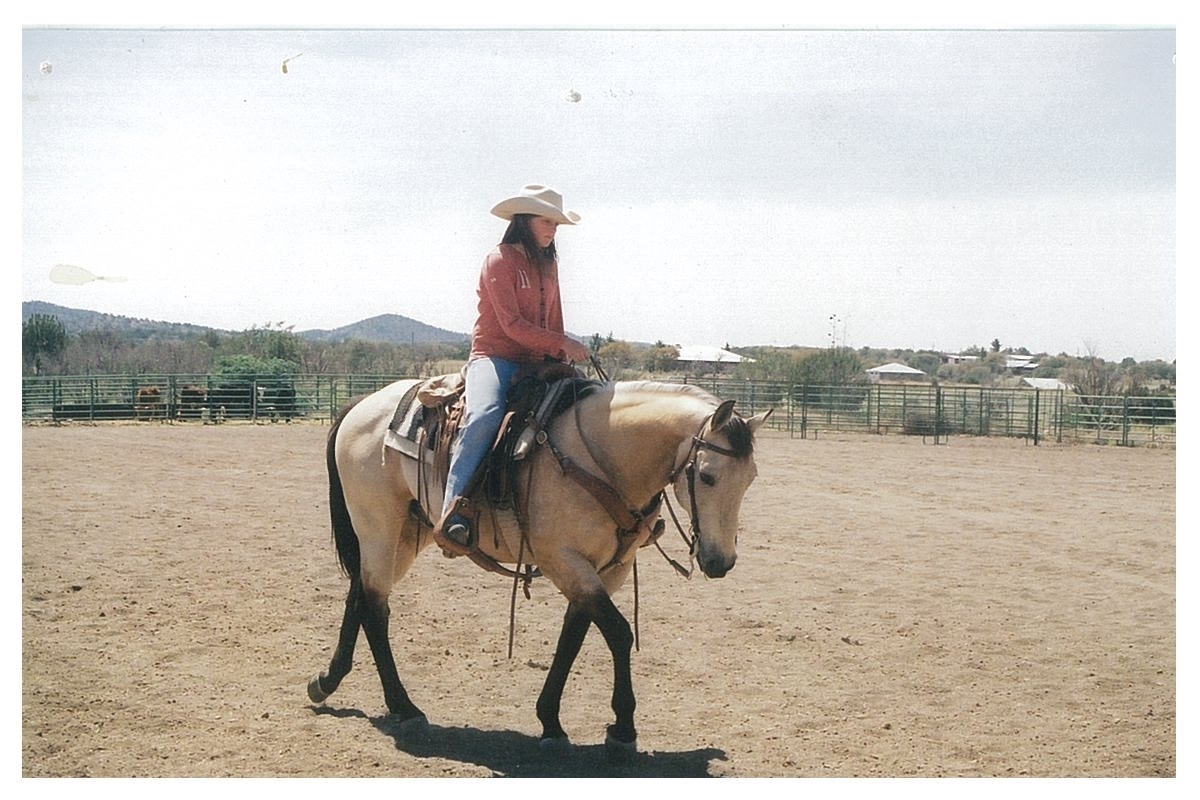 Stormytiptop with Tyler Collins Cook
Stomytiptop holding a calf - C6 Ranch
Stormytiptop at Albuquerque USTRC
Richard on Cranberry at Sonoita Ranch Horse Compeition - 2010